"Although our name remains the same, we are now a new, stronger company with a broader portfolio and renewed outlook. Combined, we have almost 200 years of industrial history, knowledge and skills which will be essential to our future success. Oil and gas will be necessary for years to come, but we also know that a transition to more sustainable solutions is needed. The film captures that through teamwork and our go-getter mentality, we are committed to develop our industry for the future," explained Anja Johansen, vice president, marketing, at Aker Solutions.
The communications agency Nucleus developed the concept for the campaign and worked with film director Andres Heger-Bratterud to bring it to life.
"We were given a challenging task from Nucleus to deliver a film for Aker Solutions based on the communications agency's concept and idea. We thought it was exciting to see an oil and gas services company taking charge and shifting towards a greener direction. If anyone can truly make a global change for the environment, it is the energy industry itself. The #PowerTheChange tagline was very catchy," said Andres Heger-Bratterud, Director at Både Og.
The film follows several characters working together across the globe to solve a potentially game-changing green energy challenge. They face a setback, but they don't let that knock them as they continue in search of a solution.
"This is the core message of the film. The goal is to trigger the world's engineers – it is about turning a hopeless situation around.
Andres Heger-Bratterud, Director at Både Og
Aker Solutions wanted the film to have an international feel, to represent its 15,000 employees in over 20 countries. With the COVID-19 pandemic, global travel restrictions, and a short timeframe, this was anything but easy.
"Ideally, this type of film production would take six months to execute, but instead, we only had five weeks. It almost seemed impossible to complete a film production this extensive and technically advanced in such a short timeframe. We had to cast actors, find locations, scenography, hire a composer to make the music, and find a performance poet. And of course, there was the post-editing work and visual effects. All this in the middle of a global pandemic. We had several concerns going into this project, and we knew many elements had the potential to go wrong," Heger-Bratterud explained.
The international scenes were shot in Cape Town, South Africa, a favored location for film production. It's also considered a hub for the advertising industry with its extensive film production skills. The city also has several environmental backdrops, you can find white beaches, urban city areas, and everything in between.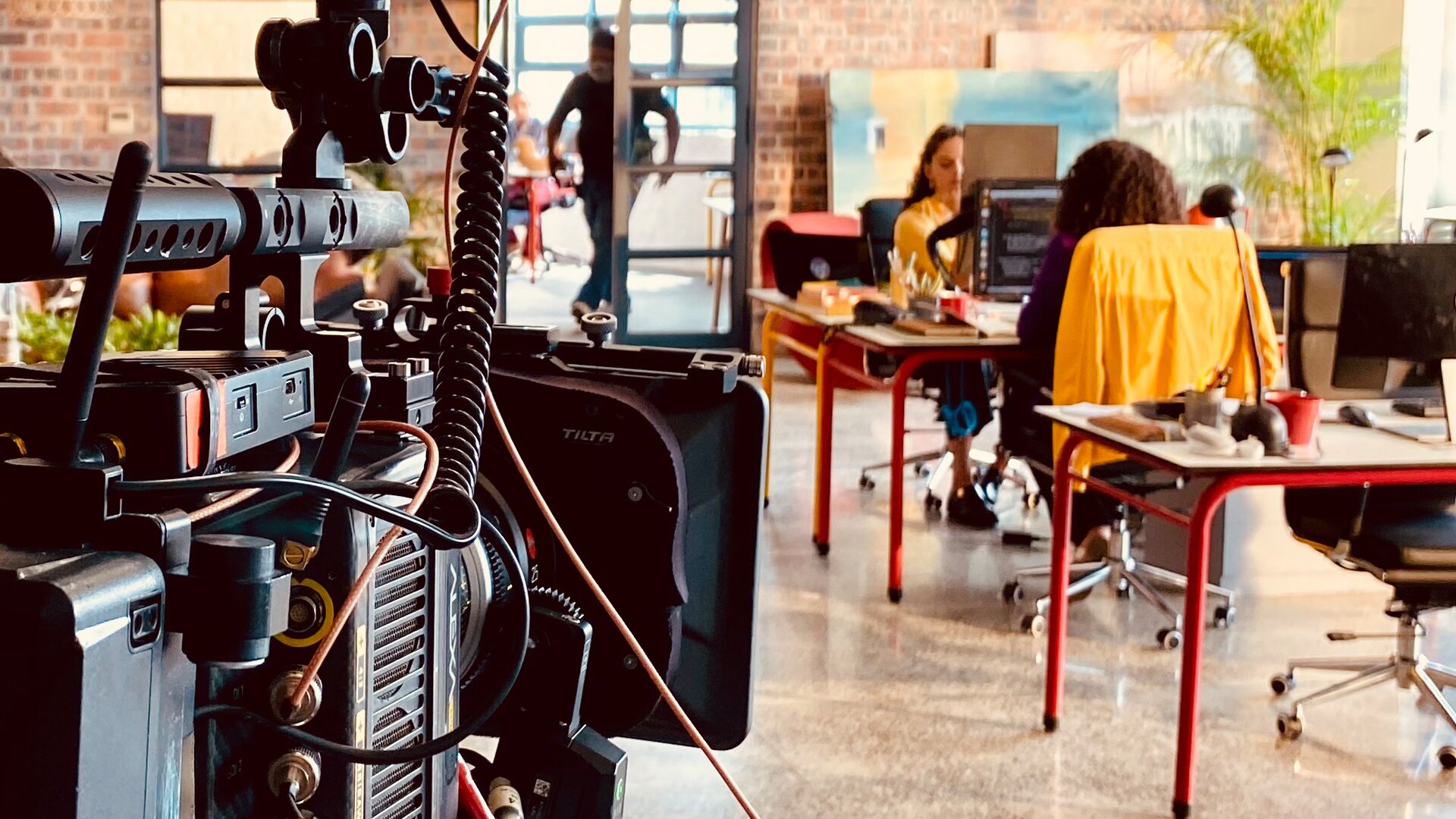 On location in Cape Town, South Africa
"We decided to film in Cape Town due to its broad reach. This way, we could capture the diversity Aker Solutions wanted without having to travel to several countries across the globe," Heger-Bratterud said.
The Norwegian film crew included the director, producer, a photographer, and a team member responsible for infection control.
In South Africa, they worked with local teams which had their own infection control to ensure a safe environment in line with local and international guidelines. From line producer, scenographer to stylist, all staff followed strict infection control measures at all times.
Two long and hectic days later, the team completed the South African shots.
In addition to Cape Town, a large part of the film was shot in Norway, the home of Aker Solutions' headquarters. To capture the desired shots, the crew filmed in Stord, Alta, Fornebu, and Barcode in Oslo. The animation studio, Gimpwille, created the visual special effects for the film, including winners from Aker Solutions' internal competition projected on Barcode's facade.
"Difficult projects trigger me. #PowerTheChange was a huge challenge for a director. It was like running a marathon at a sprinter's speed. I have always believed in the project, especially because I truly like what Aker Solutions is doing – and I believe it is possible to make a meaningful change," Heger-Bratterud said.
Heger-Bratterud is now in quarantine after shooting in Cape Town. He has taken two COVID-19 tests, both with a negative result, and now he only has a few more days before he can return home to his family.
Producer Alexander Balchen said the production came with several parallel sprints.
"Usually, we spend three to four weeks on postproduction with this kind of film. However, on this project, we only had five days, so we had to work in parallel throughout the entire production period. We couldn't afford any delays, so the music and the performance poetry was done ahead of any editing, which led to some great challenges. On the second to last day, we finally received all the elements we needed and we could start to see the contours of a finished film. The Aker family's 'nutcracker' spirit was felt throughout the project, as everyone worked tirelessly to ensure it was a success. There was no room for mistakes and all 'building blocks' just had to fit together. We only had a plan A, and it worked," Balchen explained.
The team also encountered some luck along the way.
"We went to Alta to shoot a few snow scenes. However, when we arrived, there was no snow to be seen. When we woke up the following morning, it had snowed throughout the night. Suddenly we had ten centimeters of fresh snow, and the conditions for our film production were perfect. It was an incredible experience," Balchen said.