Aker Solutions is involved in projects spanning zero emission shipping concepts, unmanned platforms, as well as reduced emissions from offshore oil and gas exploration and production through electrification.
The climate crisis has instilled a sense of emergency in people, businesses and societies all over the world. There is no common goal more important than reducing, and even eliminating, carbon emissions from energy production as well as consumption and every other cause of CO2 being released.
Norway is committed, through the Paris Agreement, climate legislation and EU goals, to substantial cuts in national emissions. Given the fact that a quarter of Norway's total emissions can be traced back to oil and gas exploration and production, this commitment is, in effect, an explicit call to action for the oil and gas industry, spanning all parts of this important value chain. Aker Solutions is fully committed to be a driving force in accelerating this transition.
The good news is, we started this work a long time ago. Our history, experience and proven field life solutions, is part of what makes our employees believe that a zero-emissions society and sustainable energy production is possible. And we know what we talk about, given the fact that we have been part of the industry for decades – and that we even have designed and built many of the installations we now are working to electrify.
Almost all of the 13,9 million tons of CO2 generated by oil and gas activities in Norway last year, came from burning fossil fuel in order to produce power and heat on the production facilities. When we are able to replace fuel powered turbines, engines and boilers with onshore power or renewables, we are reducing emissions substantially.
Johan Sverdrup is one of a few fields already electrified right now. And in pushing the limits even further, the solutions at Johan Sverdrup are meant to function as a hub and source of power for other platforms connected to the grid. And this is a stellar example of how we are looking for new solutions in this area that are able to scale up and solve more than one problem at a time.
This, combined with standardization, digitalization and a focus om renewable energy sources, is an important part of Aker Solutions' focus in the years to come. This is how we are changing – and this is the change we make.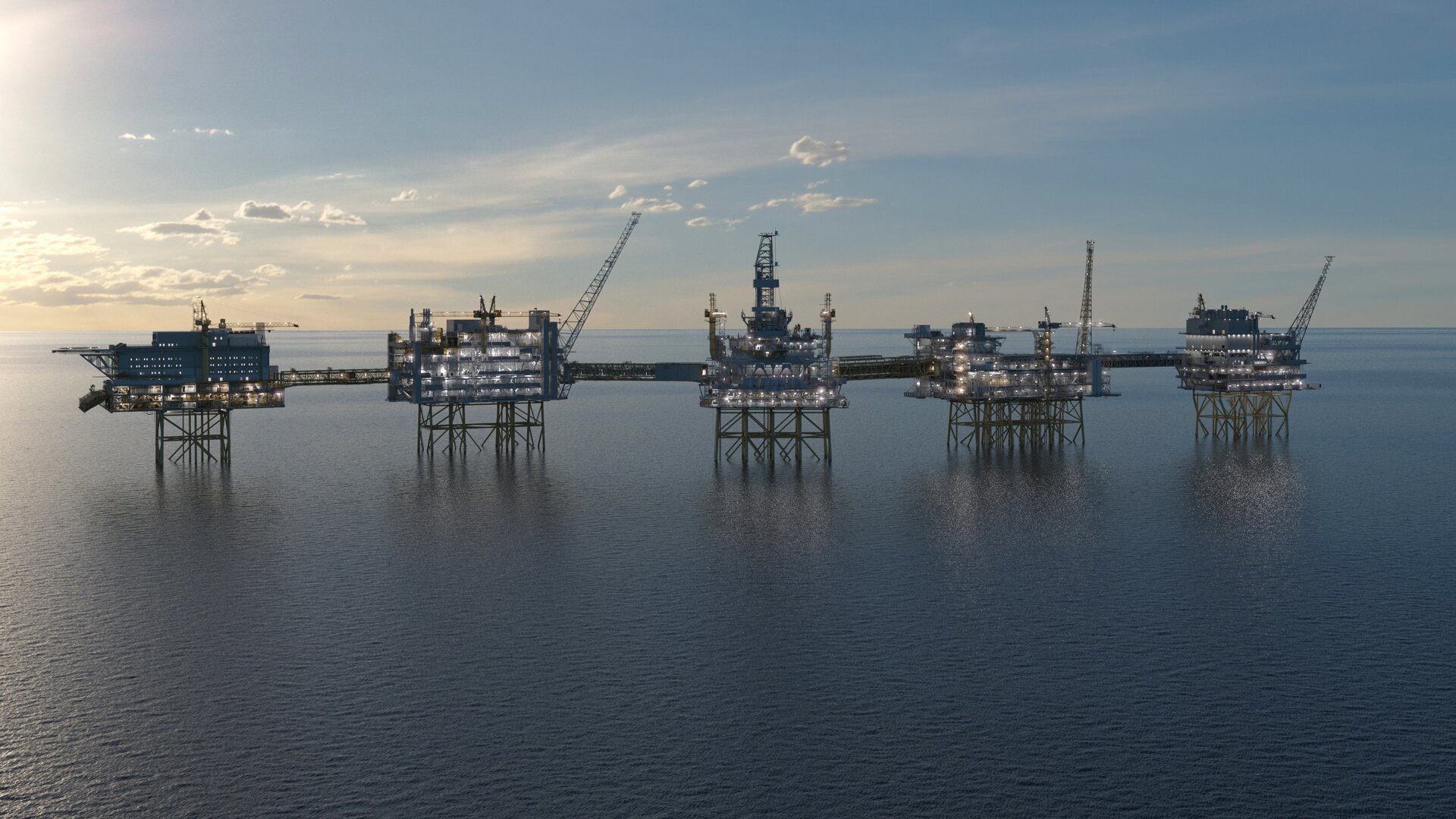 Illustration of Johan Sverdrup field (Photo: Equinor)