Aker Solutions aims to generate about half of our revenue from renewable or low-carbon solutions by 2030.
Over the next decade we will develop a more balanced portfolio of products and technologies that either generate renewable energy or remove or substantially reduce CO2 emissions.
In all forward-looking scenarios, the industry will need to provide more energy, with a lower carbon footprint. The pace of the energy transition will be dictated by a number of drivers, such as electrification, efficiency gains, low-emission fuels and accelerated cost reductions of renewables. Still, demand for oil and gas is expected to grow over the next decade, although not as fast as the expected growth in renewable energy.
20/25/30
In our enterprise strategy, we have set out our growth ambitions within the energy industry and beyond. The company aims to derive 20 percent of revenue from renewable energy and 25 percent from distinct low-carbon solutions by the year 2030.
Summarized, we call this our "20/25/30" strategy.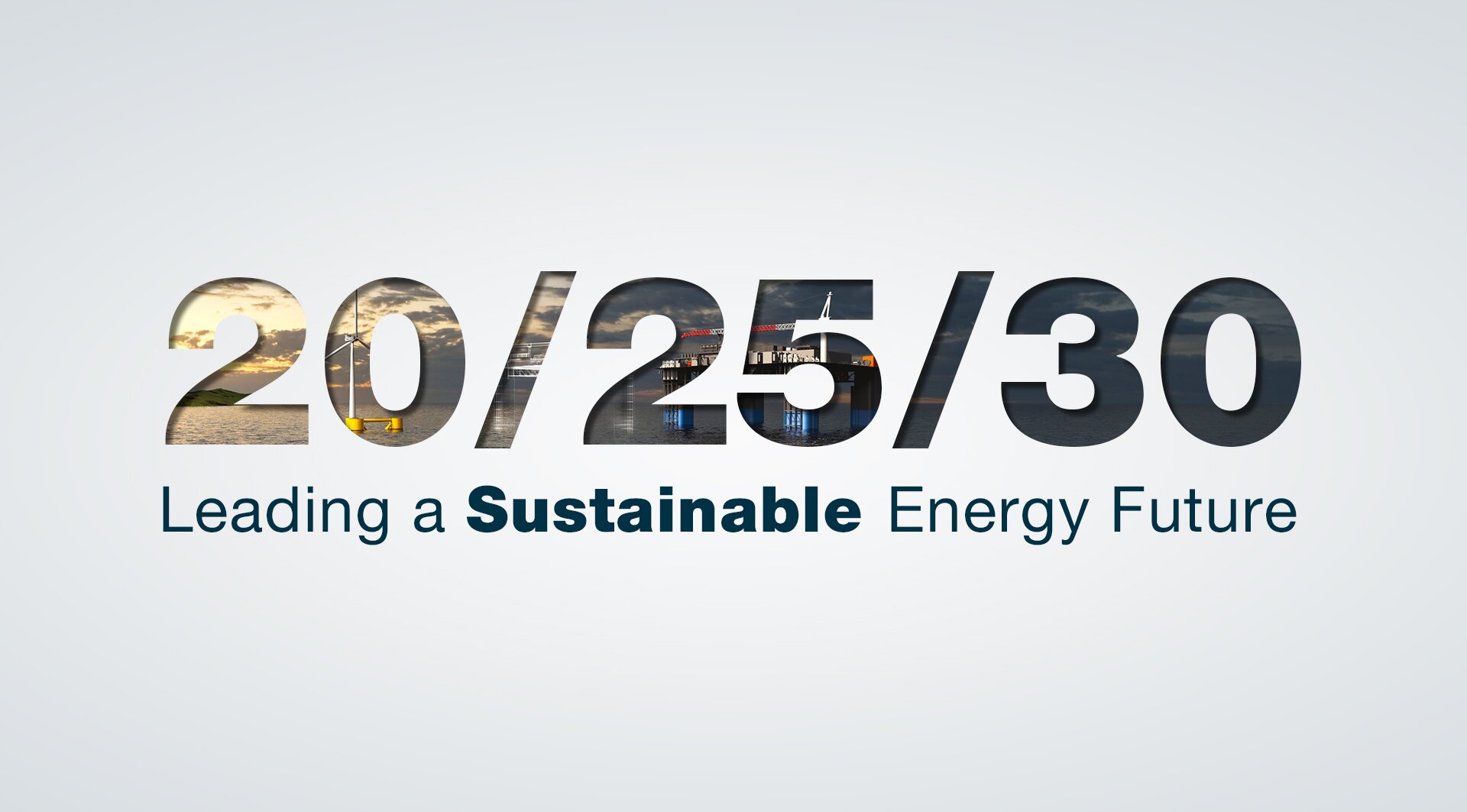 The renewable energy solutions will primarily come from floating wind solutions, while the low carbon segment is a portfolio of Aker Solutions offerings, which include: carbon capture, utilization and storage (CCUS), subsea gas compression, electrification of production assets and unmanned platforms.
We have has developed and invested in renewable energy and low carbon solutions for many years, and the company has delivered or is involved in several projects in these segments.
Renewable Energy
We aim to be a developer of offshore wind farms, as well as a product and technology provider
We are a strategic shareholder in Principle Power, which has a proven concept for floating wind
We are involved in major wind farm developments in the U.S. and South Korea, and reviewing opportunities in many others major offshore wind markets
Low-Carbon Solutions
As a supplier there is a lot we can do to help our customers decrease the carbon footprint from new and existing fields through smart design, including:
Carbon capture, utilization and storage has the potential to remove CO2 emissions from major industrial sources in industries such as cement production and waste to energy.
Subsea Gas Compression provides significantly lower CO2 emissions over the lifecycle compared to an onshore or topside compressor platform as it uses less power and potentially renewable power.
Electrification on site replaces gas turbines with power from shore, wind for oil or hybrid energy solutions.
We are involved in several studies for the electrification of fields, including the Troll West project in the North Sea.
Unmanned platforms and FPSOs enable efficient CO2 reductions through reduced travel, as well as improving safety by removing permanent personnel offshore.
We provided detailed engineering of the topside for a normally unmanned installation for Aker BP's Valhall Flank West

offshore Norway

We have done several front-end studies for unmanned facilites, including a FEED for the Cypre project offshore Trinidad and Tobago