We started out as a small mechanical workshop on the Aker river in Oslo, Norway. Now, close to two centuries later, we are a global leader for delivery of offshore and onshore energy production facilities.
Powered by digital technology, strategic partnerships and a strong culture of solving problems, we deliver complex energy projects in a safe, predictable and sustainable way.
We employ approximately 15,000 people in more than 20 countries. Wherever we are in the world, we make sure to instill our high standards of safety and integrity in our people and suppliers. Aker Solutions ASA is listed on the Oslo Stock Exchange under the ticker AKSO.
Our Purpose
To solve global energy challenges for future generations.
Our Values
Integrity is the core of our values. It guides how we connect with our customers and our health, safety and environment mindset. It shapes how we develop our people and teams, promotes a companywide open and direct dialogue and encourages a hands-on management to ensure we deliver quality results.
Customer drive
HSSE mindset
People and teams
Open and direct dialogue
Hands-on management
Delivering quality results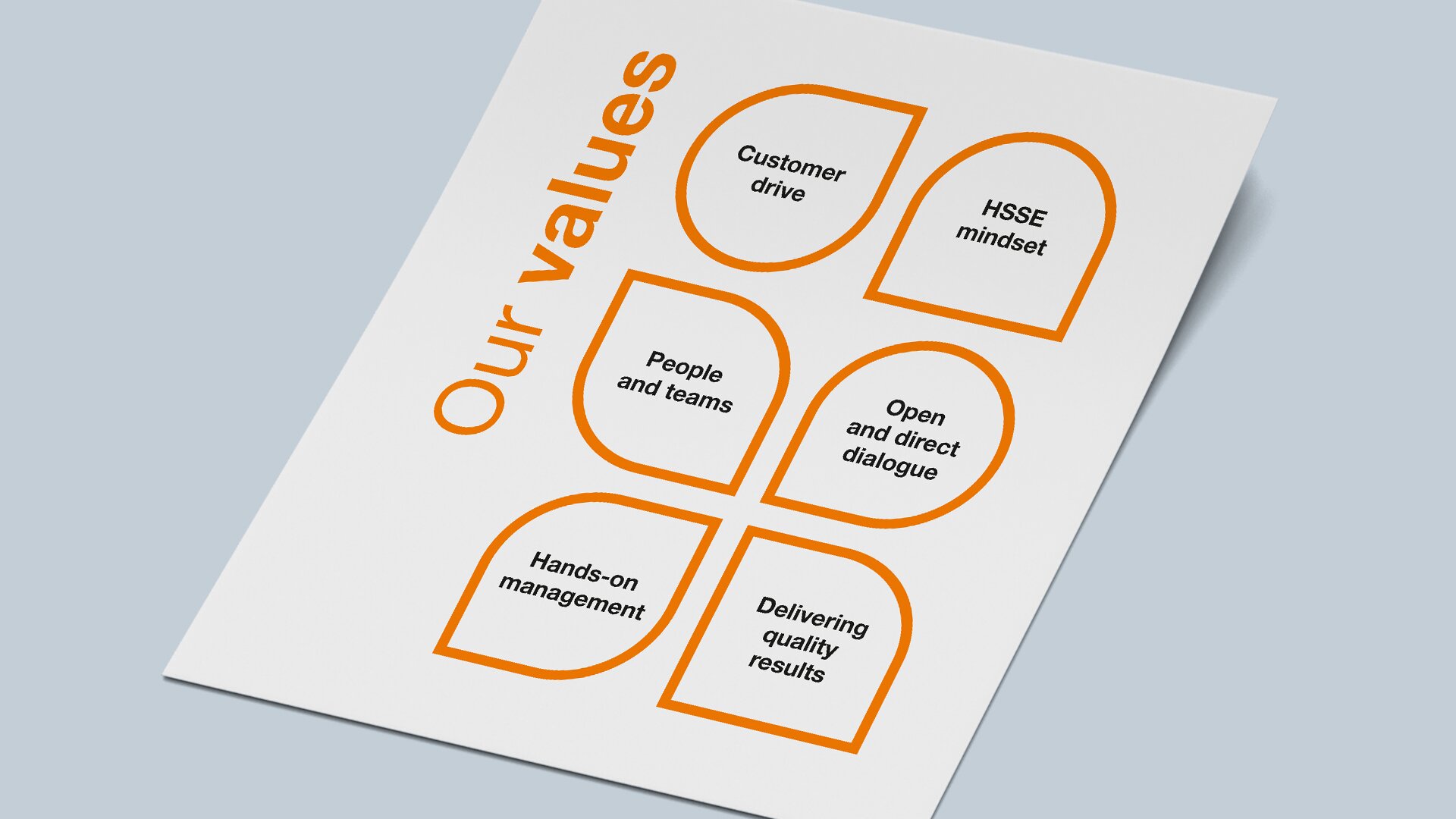 Integrity is the core of our values
Our Expertise
Our capabilities cover concept development, turnkey delivery of new projects including engineering, procurement, construction and installation, as well as support for operations and maintenance of facilities. Together with our customers, partners and alliances, we develop tailormade execution models to suit our customer's needs.
We have world class subsea technology, fabrication yards and manufacturing facilities, coupled with broad front-end, topside and system-design knowledge and a comprehensive suite of life of field solutions. Typical deliveries include offshore installations for oil and gas production and onshore process plants with minimum climate footprint, as well as offshore wind power farms, carbon capture facilities and hydrogen production installations.
With a standardized approach to projects, and a proven track record of deploying digital technologies to work smarter, we eliminate inefficiencies, deliver cost savings and ensure safe and sustainable operations for our customers
Accelerating to Sustainable Energy Production
The ability to transform is a vital aspect of our culture. Our people have always been skilled problem solvers, driven to develop viable solutions to current and emerging problems, no matter how complex.
Now, we are reinventing ourselves again. To meet future energy needs, we are determined to #PowerTheChange.
By 2030, renewables and low-carbon solutions will be our biggest business, accounting for two thirds of our revenue. Our heritage puts us in a strong position to drive the change towards a lowcarbon future. Together with our customers, partners and other stakeholders, we are developing the technologies, processes and solutions needed to accelerate the transition to sustainable energy production.
Even with the increasing development of renewable energy, the world will need oil and gas for a long time to come and we will act as a responsible partner in delivering to the oil and gas and renewable markets.
We are taking ownership for creating a cleaner, safer and more sustainable future for the benefit of our employees, customers and society.
That is how we #PowerTheChange.